Join me for drinks in the lounge? I snapped a photo of a recent lounge visit before hopping on the plane.
Airport Lounge Gift Cards: A Guide to Gifting Lounge Access
Updated by Chris. Chris likes to visit the lounge to take a shower and relax or work in a spacious comfortable chair. He finds the airport lounge one of the best places to get real work done when travelling.
An airport lounge gift card turns the airport lounge into an experience that can be gifted. Gift cards for lounge access are occasionally sold by the companies that operate lounges. I found it hard to figure out which airport lounges sell gift cards so I put together this guide.
In this guide I've detailed which lounges have gift cards available, how to book them, and what to expect from the lounge.
The following lounge networks offer gift cards:
Plaza Premium
Aspire
No1 Lounges
For people flying out from Asia, Europe or Canada, I found lounge gift cards to offer decent value. Not many US cities have giftable lounge access (notably Dallas and Denver should soon). The lounge networks I found offering gift cards have the most coverage in Asia, Europe, and Canada.
Gift cards for each network focus on different parts of the world:
Plaza Premium is focussed on Asia and Europe, while they're working on expanding into the US
Aspire lounges are available in the UK and Ireland
No1 Lounges have a small footprint in England and Australia
I also reached out to Priority Pass and Lounge Buddy to see if they currently offer gift cards, and unfortunately they do not (see my email below if you're curious about their response).
Plaza Premium Gift Card
Plaza Premium gift cards start at 98 USD for a card that includes 2 visits.
I've found that most Plaza Premium lounges are available in Asia, Europe and Canada. It seems they're still expanding in the States - Denver and Dallas are scheduled to open soon.
Cost and Validity
Plaza Premium gift card costs1:
98 USD for a 2-Visit card
219 USD for a 5-Visit card
349 USD for a 10-Visit card
Cards are valid for 12 months from activation. The card itself can be extended and topped up, however I believe unused visits will still expire. Topping up the card nets a 10% discount.
Bringing a guest counts as "a visit". Children under 2 are free.
Lounges it can be used in
Plaza Premium lounges that accept gift cards are available in roughly 40 airports around the world, such as:
US & Canada: Dallas*, Denver*, Toronto, and Vancouver;
Australia: Brisbane, Melbourne, Sydney;
Asia: Beijing, Hong Kong, Singapore, Bali;
Europe: Paris, Rome, Copenhagen
*Dallas and Denver are scheduled to open soon after the time of writing this guide.
How to buy
To buy a Plaza Premium gift card:
Go to their website here: https://www.plaza-network.com/giftcard/buy
Select how many visits to include in the card
Select a bonus (see below for more details)
Select to use as a gift, and enter recipient details
Click through to enter your details and confirm the purchase and recipient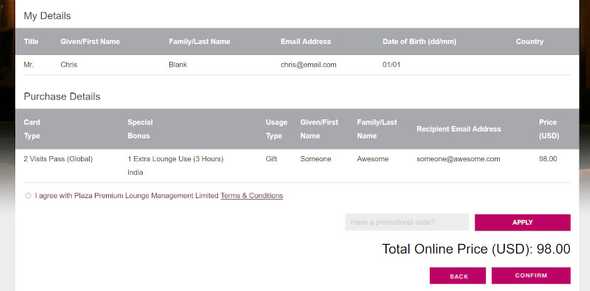 A confirmation letter will be sent out. The confirmation letter should then be taken to the lounge to claim the card and use the visits. Exchanging the letter for the card must happen within 6 months of purchase.
Ensure there is a Plaza Premium lounge available for the terminal and airport that the recipient plans to use. There's a list on the website.
What to Expect
I've found Plaza Premium lounges to include benefits such as:
Snacks, tea, coffee
A small selection of beer and wine
Space to sit, work, and charge devices
I've written a whole guide about what to expect when visiting a lounge (I'd classify most Plaza Premium lounges as advanced), check it out here: landinglastminute.com/airport-lounge-benefits.
Special bonus
A bonus can be selected to accompany the initial gift card purchase. These are limited to a few small perks at airports where the Plaza Premium offering isn't as strong (such as New Delhi, where I found the Plaza Premium lounge to be crowded and a bit overall not as good as their others). Spending more on the gift card means a bigger bonus is available.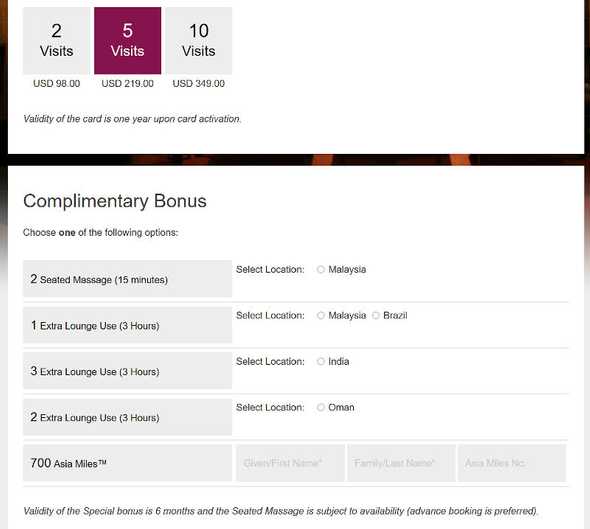 Plaza Premium also claim a 10% discount is available at the Wellness Spa & Salon at Hong Kong airport - this shop is located in Terminal 2 however and I'm not sure the discount is available while Terminal 2 is under construction.
Aspire
Aspire sells gift certificates to a selection of its UK and Irish lounges starting from £25.99.
The UK and Ireland are home to nearly all of Aspire's lounges. I've found the Aspire gift cards to really only be a good idea to give to someone who flies out from the UK or Cork in Ireland.
Cost
Gift certificates start from £25.99 for most of the Aspire airport lounges in the UK and Cork in Ireland. Aspire Plus lounges in the UK start at £34.992.
A postage fee is added, I couldn't find any digital delivery options. I've included below details on how to purchase.
A bottle of Moët & Chandon champagne can also be purchased as a gift certificate to be redeemed at selected airports. It costs £50.
Lounges included are exclusively in the UK and Ireland and include:
Birmingham, Bristol, Humberside, Liverpool, Gatwick (North), Heathrow T3, Luton, Manchester, and Newcastle
Belfast City, Cork
Edinburgh, Inverness
Bristol, Newcastle, and Heathrow T5 (Aspire Plus lounges)
How to buy
To buy an Aspire Lounge gift certificate:
Head to the Aspire Gifts website
Select which lounge access to purchase (either the £34.99 or the £25.99 airports)
Enter the name and address for delivery (if you're receiving it first, enter yours; if they're receiving it by post, enter theirs)
Enter a custom message to be included with the gift card
A physical certificate is mailed out. I couldn't find any options for digital delivery.
A postage fee is added as physical delivery is the only option. The fee was advertised as £4.99 for standard (2-5 day) UK delivery, but when I put in my former address in Southampton it calculated as £2.99. Next day delivery is advertised as £7.99 and "Europe / rest of the world" delivery is £8.99.
Each gift certificate is only valid for one person.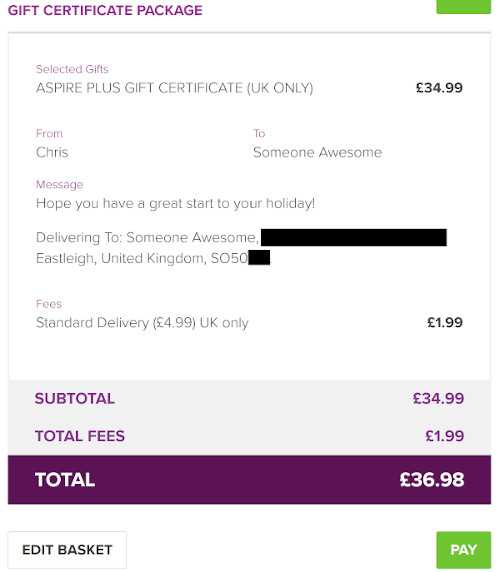 What to Expect
I've come to expect the following from Aspire:
Space to sit and recharge devices
Hot food buffet
A selection of snacks (e.g. nuts)
Tea, coffee, and soft drink
Alcohol, including beer, wine, and spirits
Premium alcohol may be available with a price tag attached (e.g. I found one of the Aspire lounges was selling a bottle of Prosecco for £42.99).
I wrote a guide to the perks that airport lounges offer. To find out what the top 11 perks are, check out the guide here: landinglastminute.com/airport-lounge-benefits.
Bonuses
A bottle of Moët & Chandon champagne can also be purchased for £50. My understanding is lounge access is still required to claim the bottle of champagne. Lounge access can be by gift certificate or existing membership.
No1 Lounges
No1 sells e-vouchers for specific lounges, or a credit voucher that a recipient can use at any No1 lounge.
No1 is a lounge network operator with airport lounges available in England and Australia (Melbourne, Sydney, and Brisbane).
Overall I found No1 to have the smallest foot print out of the lounge gift card options available. I also found it confusing to purchase a gift card (was it for me, or for the recipient?). Unless I was travelling with the recipient, I wouldn't purchase a gift voucher with No1.
Cost
Access to a specific lounge can be purchased for the following prices3:
£23 to £28 for No1 Lounges or My Lounge
£29 to £38 for Clubroom lounges (AUD 60 at Brisbane)
AUD 80 for The House in Sydney or Melbourne
A gift credit of £20 or £50 can also be purchased. If you don't know which lounge the recipient would like to use, this can be a good option.
Lounges Included and What to Expect
Lounges include:
No1 Lounges: Gatwick, Birmingham, Edinburgh, Heathrow T3
Clubrooms: Gatwick, Birmingham, Luton
My Lounge: Gatwick, Brisbane
The House: Sydney, and Melbourne
No1 Lounge is the standard place to relax before a flight within the No1 network of lounges. Hot and cold foot selection is available and expect to see a selection of beer, wine and spirits.
My Lounge by No1 are the more accessible lounges available. They come at a cheaper price and focus on the space rather than the food and drink. Snacks and drinks are still available, though not the variety found in other No1 lounges.
No1 Clubrooms are an upmarket incarnation of the No1 Lounge. Expect to see a la carte dining and a bar with beer, wine, and spirits.
The House (SYD, MEL available for gift vouchers) is a premium brand for No1 Lounges. Includes a la carte dining and bar service with champagne and cocktails. A shower is also available.
I wrote a guide recently about the top 11 perks that can be found with a lounge visit (my favourite being the shower), and how much these are typically worth. Check it out here: https://landinglastminute.com/airport-lounge-benefits
How to buy
Instructions to purchase No1 gift vouchers can be found on their website: https://no1lounges.com/giftvoucher
Priority Pass
Priority Pass don't seem to offer gift cards at the moment. I reached out to Priority Pass to confirm this; they said they'd get back to me but haven't had a chance yet. Perhaps they're working on a trial gift card offering.
It is possible to buy an annual membership for someone else. Priority Pass annual memberships renew automatically so you would need to unsubscribe before the annual fee was renewed. I probably wouldn't gift a membership like this, preferring the Plaza Premium style prepaid card instead.
Priority Pass is a membership service. I found some great value alternatives recently with prices starting from USD 99. While they don't offer lounge access, it could be a good suggestion to pass to the frequent travellers. Check out my guide here: landinglastminute.com/alternative-lounge-membership
Lounge Buddy
Lounge Buddy no longer offer gift cards.
I reached out to their support team (see email below) to clarify the terms and conditions for gift cards on their website. These are for existing gift card holders only and new gift cards are no longer available.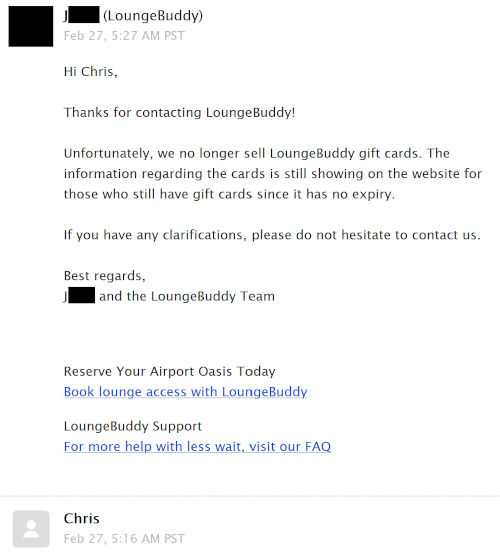 Other travel gift card ideas
Swissport offers a giftable baggage service for passengers travelling to and from Zurich. More details can be found here: https://bagpickup.swissport.com/services/giftvoucher
I can't figure out exactly what the gift voucher offers. It seems to be a service where they will collect your bags from your accommodation in Zurich and deliver them to the plane. If anyone has tried it please get in touch and I'll update this guide.
If you need a SIM card when arriving in Switzerland, I've included guides on how to purchase SIM cards:
Bottom Line
I found the best option for purchasing someone the gift of lounge access was to go with Plaza Premium. If you know your recipient is going to fly out of a UK airport, Aspire can also be a good option. I wasn't impressed though with the purchase experience of Aspire or No1 - it was confusing and unclear to me how the recipient gets the gift voucher (more so No1).
References
---
About
Written by Chris who travels frequently for work and understands what it can be like to arrive somewhere new and unfamiliar.
I wrote Landing Last Minute to help the hurried traveler get necessary information about any destination.