Photo of the food and coffee from a recent visit to the Cathay lounge in Hong Kong
Airport Lounge Benefits: 11 Perks to Look Out For
Updated by Chris. Chris likes to visit the lounge to take a shower and relax or work in a spacious comfortable chair. He finds the airport lounge one of the best places to get real work done when travelling.
A guide on all the benefits to look for when visiting a lounge or deciding whether buying access to a lounge is worth it. I've put together a list of the benefits I look out for when visiting a lounge. Ranked in order of my favourites first. I tend to fly a lot and have had the chance to try a great variety of lounges around the world.
I've included in this guide when to expect the benefits for three different classes of lounge:
Simple lounges, include the basics and typically cost around 30 USD (or less) to visit
Advanced lounges have more perks and typically cost a bit more, 30 to 50 USD to visit
Exclusive lounges, usually reserved for certain customers or members, if access if available it might cost over 70 USD
Typically airlines provide access to the advanced or exclusive lounges while membership and pay-per-use programmes target the simple and advanced ones.
I've enjoyed lounges in all these categories. I find if I set the right expectations on benefits first, I'll have a much more enjoyable time in the lounge.
1. Showers to freshen up in
Airport lounges often have showers available for guests to use.
Showers are typically provided at the advanced lounges and the more exclusive lounges. The lounge should also provide a clean towel. I've never had to bring my own towel.
Showering is my favourite thing to do before a flight. Taking a shower washes away all the stress of travelling to the airport, dragging luggage around, and negotiating security and customs. I try to bring a change of clothes to wear after showering, however I often end up wearing the same clothes I came in with.
Some lounges include shirt pressing facilities, such as the Qantas lounge in Hong Kong1. This is not typical though. I've never had a chance to have my shirt pressed at an airport lounge.
I always seek out a lounge with a shower, particularly if I'm in transit. While I prefer to use a lounge pass or membership to get access, I would be willing to pay 30 USD for access to a lounge with a shower. I've found various options for getting unlimited lounge access for less than 400 USD per year, I wrote a comparison on them recently here.
2. Complimentary snacks, salad, and buffet
Nearly every lounge includes something to eat, the food in the lounge is complimentary for anyone with access.
Lounge food can include:
Snacks, such as nuts, cookies, or dried fruit
Salad, fruit, toast and spreads
Hot buffet, such as a chicken dish, a rice dish, and a pasta dish
Made to order food cooked fresh for you
My favourite lounges usually have food that's cooked to order.
Simple lounges typically include snacks, salad, and fresh fruit. There may be some simple hot dishes available, such as soup, a rice, or a pasta dish, depending on the time of day.
Advanced lounges should additionally include a hot buffet with a few dishes available, and to rotate their dishes available throughout the day. A few lounges even offer fresh cooked food, such as a noodle bar.
Exclusive lounges have a great selection of hot buffet food, in addition to salad, fresh fruit and snacks. Fresh cooked food is likely available as well, prepared only when ordered. The best lounges include a restaurant like experience while dining there.
My favourite exclusive lounges, Singapore Airlines and Cathay Pacific, include noodle bars and other freshly cooked food2. I also had a nice piece of salmon recently in the Qantas lounge that was freshly prepared as well.
If the lounge provides a better dining experience than the airport terminal, the lounge might be worth the entry fee. This is the case at my favourite small airport lounge (Southampton, UK).
3. Drinks of tea, coffee, beer, wine, and spirits
Airport lounges always include something to drink. Tea, coffee, water, and typically some soft drink should be available at any airport lounge worth visiting.
Simple lounges may also offer a couple of beers and wines on selection as well.
Advanced lounges will have a greater variety of beer and wine. Some may also include basic spirits.
Exclusive lounges typically include a full range of spirits, a selection of wines, and a few options for beer.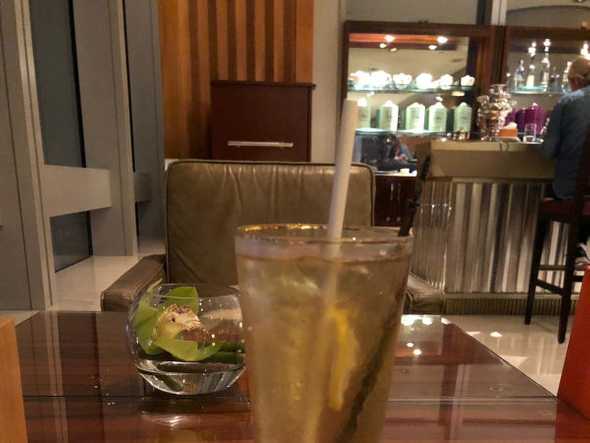 Sharing cocktails in the lounge
My favourite lounge for drinks is the Cathay Pacific lounge in Hong Kong. The bar tender3, in his moment of great service, convinced me to drink enough that I stumbled onto the plane. A concerned flight attendant checked in to make sure I wasn't going to cause trouble on her flight.
Lounge entry is typically more expensive than having the equivalent at an airport bar. When added to the other benefits on this list, I find it can be a worthwhile benefit even up to the 50 USD price point.
4. Space to work or relax
The greatest benefit of an airport lounge is the space it offers. Lounges offer a quieter place to sit that's often less crowded than the rest of the airport. Tables may be available as well to work on.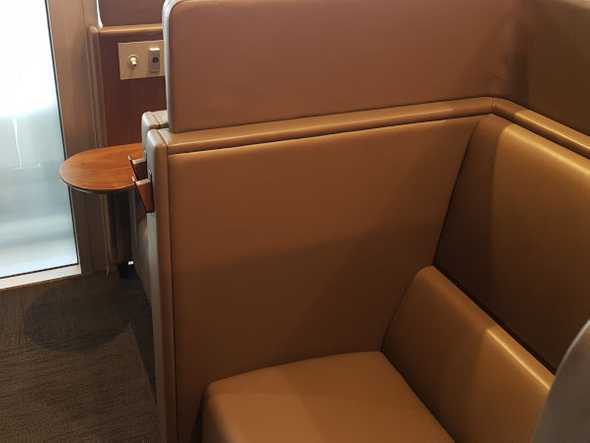 This seat came with reading light, power socket, and fold out table
While there are plenty of flights where I will skip the food and drinks, I will always appreciate the space that a lounge provides. After shower facilities, I rate space as my next favourite lounge benefit. Tranquillity and peace are traits I value highly in a lounge.
At the simple lounges, there will typically be only a seat available. A small table may be available as well. I often find these lounges crowded as it's often much easier for pay-per-use access.
In advanced lounges, expect separate areas for work and seating. Seats are often more comfortable and spacious, and may even offer privacy features such as high backs.
In exclusive lounges, expect the better seating and separate work areas, but also expect it to be less crowded. As less people can enter the lounge, I've generally found more space available per person.
Lounges can still get crowded, even at the best airports and with the best airlines. Particularly if a lounge is popular to match a certain flight, it can get crowded. In these circumstances, I avoid paying for the lounge and I avoid using a pass for a lounge (unless I have unlimited).
When I pay for a lounge, I check to make sure it has enough space to make it worthwhile. If I'm doing work, that means ensuring I have a table to work on and where quiet to sit. If I want to relax, I try to only pay for a lounge I know will be quiet. There's no harm asking staff to take a look at how busy the lounge is prior to paying.
5. Charging points
All airport lounges should provide a place to charge a laptop or mobile phone.
In simple lounges, charging points may only be against the wall or in limited places. You might have to seek them out or sit in a certain area to charge your devices.
In advanced and exclusive lounges, charging points should be available at seats and work spaces to allow you to sit where you want and still charge devices.
6. Clean bathrooms stocked with amenities
All airport lounges have bathrooms. Most lounges include the bathroom inside the lounge, reserved only for lounge guests. Every lounge I've used has cleaner bathrooms than the rest of the airport.
Lounge bathrooms can include amenities to help you get ready for a flight, including:
Combs
Disposable toothbrush and toothpaste
Cologne and perfume
Shaving kits
These amenities can be expected or requested when using advanced or exclusive lounges. I wouldn't expect something so elaborate in a simple lounge.
7. Reading material: Newspapers, magazines, books
Lounges typically provide newspapers and magazines for guests to read. Some lounges even provide books.
Simple lounges often provide a selection of local newspapers to read.
Advanced lounges can also offer some magazines to read, typically more popular publications such as The Economist (my favourite) or Top Gear.
Exclusive lounges offer local and foreign newspapers (having flown in newspapers from other cities to stock in their lounges), a wide selection of magazines, and sometimes even books to read.
8. A bed to sleep on
There are some lounges that have beds available for guests to use.
Beds are typically a perk reserved for exclusive lounges, and only available in the best of these.
Some airport lounges where a bed is available include:
The Turkish Airlines Lounge Business at the new Istanbul airport4
Qatar Airways First Class lounge in Doha
Emirates First Class lounge in Dubai
At some airports there may be day beds available at for an hourly charge. Particularly if that airport has a significant number of transit passengers.
9. Fitness areas: Gym or yoga room
There are airport lounges which include a gym, yoga room, or other fitness facilities.
This is another of the less-common perks only available in a select number of exclusive lounges. Examples include:
I've found gyms available at other airports, though paid separately and not as part of a lounge. Some examples include Vancouver7, Doha8, and Dubai.
In many of these gyms, attire is available for hire, including shoes and a clean set of clothes.
Expect to pay USD 20 (e.g. Vancouver) to USD 50 (e.g. Doha) to use gym facilities at an airport, if the airport has it. Many of these gyms offer shoes and a set of gym clothes for hire, understanding many of their customers won't have gym gear packed in their carry-on.
10. Spa and massage
Spa treatments, typically a massage, are available at a few select lounges around the world. These are usually the top-tier lounges, and even then the best of those. Examples of lounges that include spa treatments are:
Thai Airways, Bangkok
Qantas, Sydney
Virgin Atlantic, New York (JFK)
Air France, Paris
Etihad, Abu Dhabi
Emirates, Dubai
Japan Airlines, Tokyo (Narita)
American Express Centurion Lounge, Dallas
The spa and massage are available to anyone with access to the lounges in Dallas (American Express9) and New York (Virgin Atlantic10). The remaining lounges in this list are for first class passengers only (except Etihad where you can pay a small fee for the services).
11. Wi-Fi
Free Wi-Fi is typically included in an airport lounge. I've always found it to be unlimited.
I've found lounge Wi-Fi to often be slow or insecure, regardless of whether the lounge is simple, advanced, or exclusive. This is why I put it at the end of this list. It's a great perk to have, and often a necessity if trying to work at an airport. But I feel it's something that the airport lounges themselves aren't putting much effort in to.
How to get Lounge Access: Alternatives to Frequent Flyer Programs
Most of the perks (and certainly the most used ones) in this list are available to anyone that has lounge access. As an alternative to signing up to an airline's frequent flyer program, I've included here some details on how to get access to the lounge (and to these perks).
Alternatives to frequent flyer programs for lounge access include:
Priority Pass, a membership program that grants a number of visits per year depending on subscription level
Dragon Pass, an alternative membership program competing with Priority Pass
TAV Passport, another competing lounge membership program which currently has an attractive membership fee of roughly 400 USD per year
LoungeBuddy, an app supplying pay-per-use access to various lounges around the world
I've written a guide on various lounge membership options available here: https://landinglastminute.com/alternative-lounge-membership/
References
---
About
Written by Chris who travels frequently for work and understands what it can be like to arrive somewhere new and unfamiliar.
I wrote Landing Last Minute to help the hurried traveler get necessary information about any destination.