Took a photo of a Plaza Premium lounge entrance. Access passes can be purchased on the Plaza Premium website. I'll try to get a clearer one next time.
Airport Lounge Passes: A Guide to the Top 4 Lounge Access Passes
Updated by Chris. Chris enjoys visiting the lounge before a long flight. He's always on the lookout for a good lounge shower and something tasty to eat.
A guide to airport lounges pass options. Typical costs, lounge coverage, and how to use the lounge passes are included in this guide. I put this together after finding it difficult myself to figure out how to use airport lounge passes. Hopefully this guide makes it a bit clearer for anyone looking to access an airport lounge before they fly.
An airport lounge pass allows the holder a single entry into the participating airport lounge. Passes range in cost from $30 to $90 and can be purchased as a single use or as part of a membership. See below for more details on costs and membership.
Airport lounge passes are typically available with:
LoungeBuddy
Plaza Premium
DragonPass
Priority Pass
I've included details on where these networks offer lounges, how much those lounges typically cost, and how to go about purchasing the lounge access pass all further below. I've also included details of some of the smaller lounge pass options, such as Aspire and No1 Lounges.
Typical costs of lounge access passes under each of these programs are included in the following table:
Company
Price of Lounge Pass
LoungeBuddy
$35-$90
PlazaPremium
$30-$80
DragonPass
Membership required
$31
Priority Pass
Membership required
$32
Aspire
£22-£40
No1 Lounges
£23-£50
Lounge Access Pass Prices (USD and GBP)
First on my list are airport lounge passes that don't require a sign up or membership fee (Lounge Buddy and Plaza Premium). Then I've included pay-per-use memberships that require annual fees as well as purchasing a lounge pass.
If annual lounge membership is more appealing than pay-per-use access, I wrote a guide recently on the alternatives to Priority Pass that include unlimited lounge accesses for less than $400 per year (Priority Pass is currently $429): landinglastminute.com/alternative-lounge-memberships
For gifting lounge access to someone else, I wrote a separate guide on how you can do that (not all lounge passes can be gifted): landinglastminute.com/airport-lounge-gift-cards
1. LoungeBuddy
LoungeBuddy offers worldwide coverage with passes typically ranging from $35 to $90 depending on the quality of the lounge and the airport it's in. Access to LoungeBuddy passes is via an app. Lounge Buddy only accepts American Express credit cards as American Express now owns the program.
Example LoungeBuddy prices include1:
London (Heathrow): $45 for Plaza Premium; $52 for No. 1 (T3); $89 for Lufthansa
Singapore: $35 for Plaza Premium; $36 for dnata; $36 for Marhaba
Dallas (DFW): $39 for The Club
All of the prices here are in US dollars.
I found Lounge Buddy to be a good option for lounge passes if you already have an American Express card. Otherwise I feel Priority Pass (see below) generally offers a better service, even with the annual fee.
LoungeBuddy Availability
LoungeBuddy is well represented around the world, able to provide some sort of access at nearly every airport I checked.
Some examples, in addition to the above, include:
Australia: Melbourne, Sydney, Brisbane
Asia: Bangkok (both airports), Kuala Lumpur, Jakarta, Taipei, Tokyo (Narita not Haneda)
Canada: Vancouver, Toronto, Edmonton
US: Seattle, JFK, DFW
Europe: Paris (both airports), Frankfurt, Munich, Stockholm
Many many more lounges are available, there are well over 1000!
How to use LoungeBuddy
To use a lounge access pass with LoungeBuddy:
Download the app and sign up for LoungeBuddy
On the app, select the Purchase Access button
Select the airport, lounge, and time you want access for
Add any guests accompanying you
Pay by American Express
Receive a code that can be used for access within an hour of your selected booking time
Watchout for selecting the right lounge to ensure that you can access the lounge prior to your flight - selecting a lounge in the wrong terminal may mean you're unable to access it.
Payment for LoungeBuddy must be made with an American Express credit card.
What to Expect from LoungeBuddy
At the $30-40 range, I found most lounges provided a place to sit, power sockets available, and some complimentary drinks and food. The better ones in this price range include hot food and alcoholic drinks.
At the higher end of the price range (over $50), expect a traditional business class lounge experience: Complimentary beer, wine, spirts, and a buffet or fresh cooked food.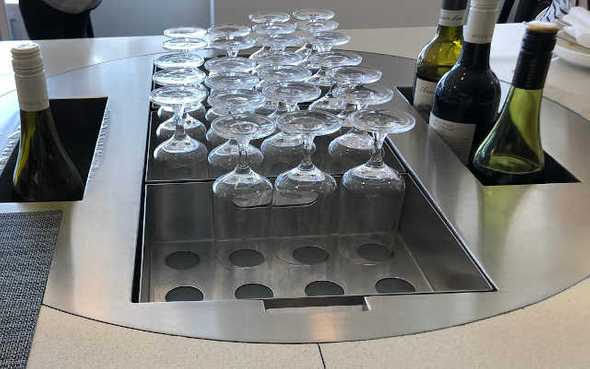 Lower priced options are available, I even saw some cheaper than LoungeBuddy's introductory price of $25. Probably the reason they don't advertise lower prices is that at this price point (roughly $20), the "lounge" is little more than a place to sit. Power sockets may not even be available.
How LoungeBuddy Compares
I like that there are no membership fees with LoungeBuddy, only pay for what you use. I also usually have an American Express in my wallet, so it's no big deal for me, I understand others may not be so accepting of this.
I found the price of LoungeBuddy quite high compared to Priority Pass however. If visiting lounges more than 2-3 times per year, Priority Pass may be a better option.
2. Plaza Premium
Plaza Premium lounge passes provide access to lounges operated by Plaza Premium themselves, and their participating partners. From its base in Asia, they're currently expanding around the world (see below for lounge availability).
Lounge passes are booked for each use, and can be purchased on the website.
Plaza Premium lounge access passes typically cost between $31 and $80 depending on which lounge. Some examples of lounge access pass costs with Plaza Premium include2:
$53 for Plaza Premium lounges at Heathrow
$76 for the Ahlan lounge in Dubai
$43 for Plaza Premium lounges in Singapore
$31 for the Plaza Premium lounge in New Delhi
All of the above prices are in US dollars.
Plaza Premium Availability
I found Plaza Premium lounge passes to be available in 37 airports. In addition to the above, Plaza Premium has lounge passes available in:
Melbourne, Brisbane, and Sydney
Taipei, Hong Kong
Edmonton, Toronto, and Vancouver
There are no lounges in the US partnered with Plaza Premium at the time of writing.
How to buy a lounge access pass with Plaza Premium
To use Plaza Premium:
Go to the Plaza Premium website
Search for the airport you're departing from and select the booking time and guests
Select the lounge at the airport (check to make sure your departure terminal matches)
Enter details and confirm payment
Plaza Premium accepts Visa, Mastercard, American Express, and Paypal.
A confirmation email will be sent to you with the details to show the staff at the lounge to use your lounge pass. There are no apps for booking lounge access with Plaza Premium.
What to expect from a Plaza Premium lounge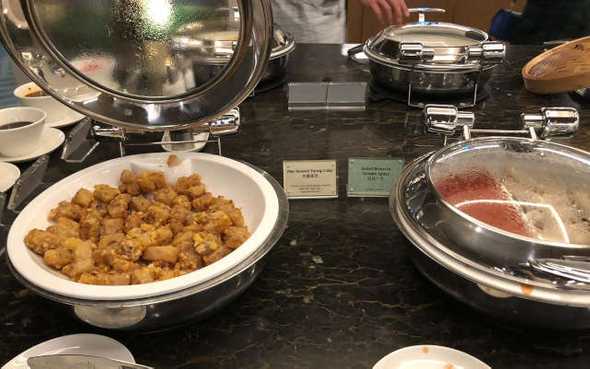 I find Plaza Premium to offer a good experience to sit in and have a small snack and a beer or glass of wine.
At the more expensive end of the scale, expect a business class lounge experience with a buffet and/or cooked food, and beer, wine and spirits.
I've also experienced a bit of crowding with Plaza Premium lounges, particularly in Hong Kong and New Delhi. This can be due to airlines using them as contract lounges (in the case of Delhi) or generous credit card schemes (such as in Hong Kong).
That said, the Plaza Premium lounge in Melbourne - which I've never found to be busy - is excellent.
How Plaza Premium Compares
I found lounge access passes with Plaza Premium to offer a good alternative to Lounge Buddy.
Bookings can be made easily on the website with no need for a separate app; cost is comparable; and more payment methods are accepted (Visa, Mastercard and Paypal in addition to Amex).
Plaza Premium is still building their network of lounges however, and there may not be any available at the airport or terminal your flight is departing from.
3. DragonPass
DragonPass is a membership program for airport lounges. Lounge access passes are available depending on tier of membership.
Three tiers of membership are available:3
$99 per year including 1 lounge pass, additional pass is $31
$219 per year including 8 lounge passes, additional pass is $31
$399 per year including unlimited lounge passes (guests cost $31 each)
All prices in USD.
DragonPass is focussed on Asia though they have access passes available in over 40 American airports and 100 European airports.
I couldn't find any easy way to gift DragonPass lounge passes to someone, unless they were accompanying the original member.
DragonPass Availability
DragonPass lounge access passes are available in over 600 airports, for example:
USA, over 40 airports such as Atlanta, Chicago, Minneapolis, JFK & Newark, Honolulu and more (notably missing DFW);
UK, over 30 airports, in addition to each London airport, they also include the likes of Manchester, Belfast, Edinburgh, Glasgow, and even small airports such as Southampton (one of my favourite little airports);
Europe, over 100 airports, including Frankfurt, Nice, Verona, and all three Milan airports (to give you an idea of how extensive their coverage is).
Every big international hub airport I checked has lounge access available with DragonPass including London, Paris, Singapore, Hong Kong, Dubai, and Istanbul.
China has the single largest footprint of lounges in the DragonPass network, with over 200 available (I didn't realise there were so many airports in China!).
The DragonPass website or app can be used to figure out what services are available at any airport. Though I found the search bar on the website not to work very well (e.g. I wanted to search for "Aspen" but the search returned 0, yet when I scrolled through I could find "Aspen Airport ASP").
How to buy lounge access with DragonPass
To buy a lounge access pass with DragonPass:
Sign up on the DragonPass website, the minimum plan is $99 including the first access pass free
Download the app or wait for the card in the mail
Use the app or card for lounge access
To use DragonPass lounge access passes, membership is required. Sign up for DragonPass membership is done on their website. I believe it's possible to sign up on their app, but I've never tried it and I've heard it's not a great process.
Redeeming a lounge visit with DragonPass is via card (easy and less complicated) or via their app (I feel it's a little harder to use).
What to expect from a DragonPass lounge
DragonPass arranges access to partner lounges. These partner lounges are typically mid-range to high end, depending on the airport.
At the mid-range lounges you can expect:
A comfortable place to sit
Power sockets
Complimentary food and drinks (soft drinks and a small selection of beer and wine)
At the higher end lounges you can expect:
A comfortable place to sit, with power sockets and space to work
Buffet hot food and in some lounges food made to order
Complimentary soft drinks, beer, wine, and spirits.
Showers may also be on offer, and if they are the lounge will also provide a towel.
Airport lounges can offer a huge variety of perks depending on space availability, target customers, and the sort of income the lounge can bring. I wrote a whole guide about what perks to look out for (hidden showers for example) when accessing a lounge. Check it out here: landinglastminute.com/airport-lounge-benefits.
How DragonPass compares
I find DragonPass to be a good alternative to Priority Pass (detailed below). It's great at what it does: Lounge membership for frequent flyers.
For those looking for a once off lounge access pass, DragonPass isn't a good suggestion (that's why it's number 3 on my list). It does offer affordable lounge access for those willing to pay its annual membership fees however.
DragonPass is good for anyone who flies frequently enough to take advantage of at least 8 lounge visits per year.
4. Priority Pass
Priority Pass is a lounge access membership program, similar to DragonPass.
Some lounge passes are included in the annual membership fee, and then additional passes are charged on a per-use basis.
Priority Pass membership costs are4:
$99 with no included passes, then $32 per pass
$299 with 10 included passes, then $32 per pass
$429 for unlimited access
All prices in USD.
Access to a lounge with Priority Pass is by presenting the membership card at the lounge entrance to claim/spend a pass on your account. I prefer the physical card to the app (which I haven't figured out yet).
Priority Pass has the best coverage on this list as far as I can tell (I haven't yet tried many of the 1300 lounges they have available 😉). I've found it accepted frequently throughout the US, and even in small airports such as the UK's Southampton.
Priority Pass Availability
Priority Pass boasts access available to over 1300 lounges. Some examples include:
North America: From Chicago and DFW to Colorado, Tijuana, and Edmonton
Europe and UK: Luton, Southend, Knock, Jersey, Ibiza, Kiev, Lisbon - there is extensive coverage
Asia and Australia: Bali, Guam, Nagoya, all the big hub airports, many China airports, and more!
It's rare I fly from an airport that doesn't have a Priority Pass lounge. In a few select airports, dining at a restaurant is also included. There are a few dozen restaurants mostly in the US and Australia. This perk is typically only worthwhile for those with unlimited membership.
How to buy lounge access with Priority Pass
To get a lounge access pass with Priority Pass:
Sign up on the Priority Pass website
Receive temporary card, physical card (mailed to you), or download and log in to the app
Present your card/app at the lounge front desk for access
Prior booking is not required with Priority Pass. A Priority Pass lounge access can be used any time the lounge is available and has space to accommodate you.
Priority Pass is also frequently a perk with credit cards. My Priority Pass membership comes thanks to American Express. The sign up process was handled by American Express, they mailed me a physical card. I can't figure out the app however.
What to expect from a Priority Pass lounge
I usually have a great experience in Priority Pass lounges. They cover the full range of quaint little airport lounges up to opulent experiences in some of the world's busiest airports.
Priority Pass lounge access is the same cost regardless of the perks available in the lounge. This sometimes represents better value at some airports compared to others.
At the smaller airports and mid-range lounges expect to find:
Space to sit and recharge devices
Tea, coffee, snacks, and soft drink
Small range of beer and wine
At the higher-end Priority Pass lounges
I most value space to relax before my flight. If I'm flying internationally, I like to enjoy a shower too (Priority Pass lounges can include showers, particularly in big airports). I wrote a guide recently about the perks to look out for when accessing a lounge. If interested, check it out here: landinglastminute.com/airport-lounge-benefits
How Priority Pass compares
I find Priority Pass a great membership if:
I'm going to fly a lot in the coming year with different airlines (not enough to build up status), OR
it's included with my credit card (as mine currently is)
I don't find it to be a great deal for casual lounge access passes. To get the most out of Priority Pass, you really need to visit airport lounges at least 10 times per year.
5. Aspire
Aspire is a small network of lounges mostly covering the UK and destinations British people like to travel to (e.g. Amsterdam).
Access passes for Aspire lounges can be purchased on their website. Their lounge access is available under the other programs I've included in this list; Aspire also sell passes to their own lounges on their website.
A pass to access an Aspire lounge can cost anywhere between £21.99 and £34.99 depending on which airport the lounge is in5. Usually the more expensive it is, the more perks the lounge has available.
Aspire Availability
Aspire has a network of roughly 40 lounges it sells access to. These are predominantly in the UK and Europe, though there are a few in Africa and Canada.
To give you an idea of their variety, Aspire offer lounge access passes in:
Heathrow, Humberside, and Aberdeen
Cork, Sofia, Zurich, and Helsinki
Calgary, Montreal, Nairobi, Johannesburg, and Dubai
I find Aspire focuses on destinations that people living in the UK are likely to travel to.
How to buy lounge access with Aspire
Bookings for lounge access with Aspire can be made on their website:
Go to the Aspire website(Aspire is run under the Executive Lounges brand)
Select lounge, flight time, and number of guests
Enter purchase details to confirm
Details of how to use the pass are emailed to the provided email address.
What to expect from an Aspire lounge
I've found Aspire to offer a comfortable experience typical of domestic/small airport lounges.
Expect to find in an Aspire lounge:
Space to sit and relax before a flight, with places to charge laptops and phones
A selection of snacks, salad, fruit, and maybe a few hot dishes served buffet style
Tea, coffee, soft drinks, and a small selection of beer and wine
How Aspire compares
Aspire can offer a great option for lounge passes if flying from an airport in their network. I felt their website could do with some improvement, but otherwise the experience seems good.
Aspire lounges are however typically included with Priority Pass and LoungeBuddy.
I would consider booking directly with Aspire rather than using LoungeBuddy if flying from an airport they have a lounge in, particularly for anyone who doesn't have an American Express card.
6. No1 Lounges
No1 Lounges are also a small network that covers the UK and has a few options available in Australia.
E-vouchers are available for lounge access to No1 Lounges. These typically cost between £20 and £40.
Some examples of No1 Lounges include6:
£23 to £28 for No1 Lounges or My Lounge
£29 to £38 for Clubroom lounges (AUD 60 at Brisbane)
AUD 80 for The House in Sydney or Melbourne
No1 Lounges Availability
No1 Lounges are available in:
No1 Lounges: Gatwick, Birmingham, Edinburgh, Heathrow T3
Clubrooms: Gatwick, Birmingham, Luton
My Lounge: Gatwick, Brisbane
The House: Sydney, and Melbourne
This isn't an exhaustive list, but should give you an idea of their coverage.
See below for what to expect with each of these categories of lounge.
How to buy access with No1 Lounges
To book a lounge pass with No1 Lounges:
Head to the No1 Lounges website
Select the Book Online option (at this point you can also book access using DragonPass or Priority Pass)
A page specific for the lounge will open up, proceed with booking as it directs there
Confirm details of booking and pay
The "Lead Passenger" should receive information about how to redeem the lounge access by email.
What to expect from No1 Lounges
No1 Lounge is the standard place to relax before a flight within the No1 network of lounges. Hot and cold foot selection is available and expect to see a selection of beer, wine and spirits.
My Lounge by No1 are the more accessible lounges available. They come at a cheaper price and focus on the space rather than the food and drink. Snacks and drinks are still available, though not the variety found in other No1 lounges.
No1 Clubrooms are an upmarket incarnation of the No1 Lounge. Expect to see a la carte dining and a bar with beer, wine, and spirits.
The House (SYD, MEL available for gift vouchers) is a premium brand for No1 Lounges. Includes a la carte dining and bar service with champagne and cocktails. A shower is also available.
How No1 Lounges compare
I find the No1 Lounges to offer slightly better value for money than Aspire.
Their lounges can also be booked through DragonPass, LoungeBuddy and Priority Pass.
Conclusion
I ordered this guide by putting my favourite ways to buy single use lounge access passes first. That is, LoungeBuddy is the platform I recommend for those looking to buy a single use lounge access pass. Also consider Plaza Premium if it's available where you are.
Buying a membership to a lounge network is also an option, particularly for those likely to use more than 8 lounge accesses passes per year. DragonPass and Priority Pass are the best options in this category - they are memberships though and don't sell single use standalone lounge access passes.
Going straight to the lounge providers to purchase an access pass is also an option. Plaza Premium is the biggest operator that does this. Aspire and No1 Lounges are smaller networks that sell single use lounge access passes on their website. These lounge providers are also typically available via Priority Pass and DragonPass.
My personal favourites are LoungeBuddy (no membership required), Plaza Premium (because I'm based in Asia) and Priority Pass (because of its extensive network and that it's bundled with my credit card). DragonPass is also a service I'm considering for the future.
Related Guides
Looking to gift lounge access to someone special? I wrote another guide for that here: landinglastminute.com/airport-lounge-gift-cards
Curious what perks can be found once you're inside an airport lounge? Also have a guide for that here: landinglastminute.com/airport-lounge-benefits
References
---
About
Written by Chris who travels frequently for work and understands what it can be like to arrive somewhere new and unfamiliar.
I wrote Landing Last Minute to help the hurried traveler get necessary information about any destination.