I drew a map for SIM card locations in the arrivals areas at Edinburgh and Glasgow airports.
Scotland SIM Cards: A Visitors Guide With Maps to the Best Options
Updated by Chris. Chris used to live in the UK, on his last trip to Scotland he fed a woolly cow.
For tourists, students, business people and any visitors arriving in Scotland for 1 week to 1 year, this guide describes some of the best SIM cards available in Scotland. In this guide I compare SIM card providers based on their data, coverage, ability to make and receive phone calls, and convenience of purchase. I've put together this information based on my research and experiences travelling around Scotland and living in the UK.
When arriving in Scotland, I found the best SIM cards to be:
For visitors staying less than one month, to get an EE SIM card with options starting from £15 for 5GB and purchased from the WH Smith at either Edinburgh or Glasgow Airport
For visitors staying more than one month, consider a Tesco Mobile SIM card with plans starting from £10 for 4GB. The EE SIM available at airports can also be good value.
It can be harder to find a Tesco SIM card, they're not available at the airport. This is why I usually prefer going for EE. It's conveniently available at the airports, and if there are any issues they also have a large network of shops throughout the UK. Tesco Mobile can be purchased at most Tesco stores.
I've included airport maps with the location of the WH Smith shops marked on them below. I've also written specific guides on buying a SIM card when arriving in Edinburgh and Glasgow. These guides also include details of nearby Tesco shops.
SIM cards purchased in Scotland can be used throughout the United Kingdom and currently (pre-Brexit) most of Europe.
This guide to prepaid SIM cards for visitors to Scotland comes in 3 parts:
Part 1: Visitor SIM Cards
Visitors staying less than a month
If I'm only staying somewhere for a few weeks (or less!) I look for convenience when picking up a SIM card.
EE is convenient - it's sold at Edinburgh and Glasgow airports (at the WH Smith, see map below).
With a £15 top-up, an EE SIM card includes1:
5GB of data
500 mins of calls
30 day validity
I found EE to have the best coverage out of the options when arriving at Glasgow and Edinburgh.
If in need of more data, EE can be topped-up with £20 for 10GB or £30 for 20GB.
Alternatives:
Lebara, which has comparable coverage, has a £15 top-up that includes 5GB of data and 1000 mins of calls to international numbers2
3 Mobile, 10GB for £15 with unlimited calls, but coverage isn't as widely available through Scotland when travelling outside of towns3.
A Three SIM card can be used to roam to dozens of countries outside the EU, such as the United States, Australia, New Zealand, and Brazil at no extra cost. I've found Three Mobile has very cheap data rates compared to other country's local SIM cards (particularly New Zealand). It can be worth it to buy a Three Mobile SIM card in the UK and use it in one of the countries listed here: http://www.three.co.uk/Support/Roaming_and_international/Roaming_Abroad/Destinations
If looking to save a small amount, also consider Tesco Mobile. As I describe below though, Tesco Mobile can really only be purchased from a Tesco store, which aren't as easy to get to as the newsagents and convenience stores that sell EE, Three, or Lebara SIM cards.
Visitors staying more than a month
If staying more than a month in Scotland, there is more time to spend shopping around for the best deal.
While I personally prefer EE or Vodafone (which also has a £15 for 5GB of data plan), there are other good options.
Tesco mobile starts from £10 and can be good value for visitors4. Plans with Tesco Mobile include:
£10 for 4GB of data and 500 mins of calls
£15 for 8GB of data and 1000 mins of calls
£20 for 16GB of data and 2000 mins of calls
The drawback to Tesco is that you have to find a Tesco store to purchase a SIM card. If staying a more than a month or two in the UK, the savings of doing so can make it worth it. I've included details on how to find Tesco stores in my SIM card guides for Edinburgh and Glasgow.
Alternatives to Tesco Mobile:
EE, Vodafone5, 3, and Lebara, as I mentioned above
Giffgaff, with plans such as 6GB of data for £10 with unlimited calls6. Giffgaff is essentially an online only store: SIM cards are ordered online for delivery and I've heard it's hard to speak to someone if there's a problem.
When I lived in the UK and visited Scotland, I found the best coverage to be with EE, Vodafone and O2 (Tesco and Giffgaff). Three (3 Mobile) didn't perform quite as well.
Coverage
In major towns and cities in Scotland (Edinburgh, Glasgow, Aberdeen, Perth, Inverness etc.) there is generally good coverage with every mobile phone network.
For some of the popular tourist areas however, coverage can vary a little:
Around Loch Lomond: 3 doesn't have great coverage, the others claim they do
Islay: All providers cover the village areas, outside the village coverage is a bit sparse
Stirling: All providers also have coverage here.
When I've visited Scotland I find that in general, villages, towns, and major roads (such as the A9) have decent coverage with all providers.
Identification requirements for Scotland SIM Cards
There are currently no requirements to provide identification when purchasing a SIM card in Scotland or anywhere else in the UK.
Part 2: Maps to Airport SIM Cards
At Edinburgh and Glasgow airports, the WH Smith shops sell SIM cards to arriving visitors. the WH Smith shops at either airport sell the following SIM cards:
EE, £15 top-up for 5GB of data
3, £15 top-up for 10GB of data
Lebara, £15 top-up for 5GB of data and 1000 mins of calls to select countries outside the EU.
When arriving in Edinburgh from another country, the closest shop to buy a SIM card is WH Smith. Walk forward after clearing customs and it's on the right near the exit.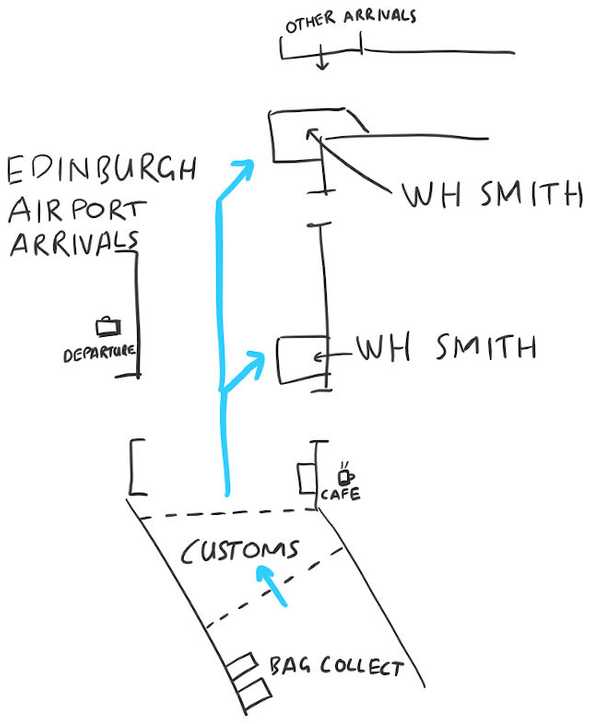 Map to Edinburgh Arrivals area, showing SIM card shops
When arriving Glasgow from another country, the closest shop to buy a SIM card is also WH Smith. Turn right after clearing customs to find it.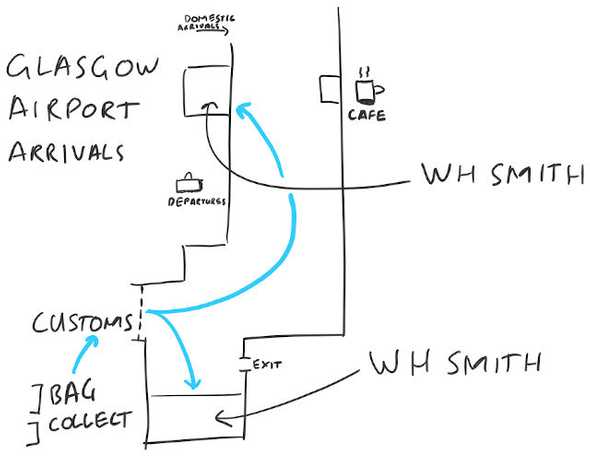 Map to Glasgow Arrivals area, showing SIM card shops
For more details, including where to buy Tesco Mobile near each airport, check out the guides I wrote for each city: Edinburgh and Glasgow
Part 3: Roaming to Scotland: Who gets the most value from it. And where to roam with a Scotland/UK SIM
For visitors arriving from the EU: Scotland and the UK are (at the time of writing) part of the EU single digital market and support roam like at home9. This means that European SIM cards should be able to use their quotas for SMS, calls, and data as if it was being used in the home country.
This means that people from outside the EU (such as Americans, Canadians, or Australians) can buy an EU SIM card and have it work in any EU country. If you purchased a SIM card in Ireland before arriving in Scotland, the Irish SIM card paid for in Euro will still work in Scotland, for example.
For Americans:
AT&T includes Scotland and the UK with their Roaming Passport for 70 USD per month7;
T-Mobile includes Scotland and the UK in plans with Simple Global (unlimited 2G data)8.
For Americans not already subscribed to AT&T's roaming passport, buying a local SIM card seems much cheaper than roaming to Scotland.
For Canadians:
Bell charges 12 CAD per day for 500mb and unlimited calls to Scotland, the UK, and Canada12.
Canadians will likely save significant money by purchasing a SIM card when arriving in Scotland.
For Australians:
Telstra charges 10 AUD per day for roaming in Scotland13;
Vodafone charges 5 AUD per day14;
Optus offers 10GB for 20 AUD lasting 14 days15.
If only staying a few days, Vodafone can be a good option for roaming in Scotland. Chances are though that buying a local SIM card on arrival will offer significant savings.
Roaming a Scottish/UK SIM card to another country
All SIM cards discussed in this article currently (at the time of writing) include roaming to the EU.
Whichever SIM card and package purchased in Scotland or the UK, the quota should be available for use in participating EU countries (most of the "continent" and Ireland).
To America:
EE charges £4.80 per day for 500mb
3 Mobile does not charge extra for roaming to the United States
Tesco, Lebara, Giffgaff, and Vodafone charge per megabyte (it likely isn't worth it);
There is no additional cost with 3 Mobile to roam to the United States. If heading/returning to the US after visiting the UK, you can continue to use 3 Mobile while in the States.
To Canada:
EE charges £4.80 per day for 500mb for Canada as well
3 Mobile is £5 per day for unlimited data (under Data Passport)
Tesco, Lebara, Giffgaff, and Vodafone charge per megabyte (it also likely isn't worth it);
I've found local SIM cards in Canada to be quite expensive (on a world scale). If visiting Canada after the UK as a tourist or business traveller (i.e. only staying a few days), EE or Three Mobile might be worth the roaming charges compared to a local Canadian SIM. Particularly if travelling on to the States after a few days: Pay for a couple of days Canadian roaming with Three; then use Three Mobile for no additional charge in the States.
References
---
About
Written by Chris who travels frequently for work and understands what it can be like to arrive somewhere new and unfamiliar.
I wrote Landing Last Minute to help the hurried traveler get necessary information about any destination.