I drew a map for SIM card locations in the arrivals areas at Auckland, Christchurch, and Queenstown.
New Zealand Visitor SIM Cards: A Guide with Maps to the Best Options
Updated by Chris. Chris enjoys visiting New Zealand for its wide open space, lovely scenery, and kiwi charm.
For tourists, students, business people and any visitors arriving in New Zealand for 1 week to 1 year, this guide describes some of the best SIM cards available in New Zealand. In this guide I compare New Zealand SIM card providers based on their data, coverage, ability to make and receive phone calls, and convenience of purchase. I've put together this information based on my research and experiences travelling around New Zealand.
I've found the best options for SIM cards when visiting New Zealand to be for:
Visitors staying less than a month: Get a Vodafone Travel SIM card at any airport, starting from 29 NZD1
Visitors staying 1-2 months: Also check out Vodafone Travel SIMs, though consider the 49 NZD option
Visitors staying more than 2 months: Consider getting a local prepay plan from 2degrees (30 NZD per month), Warehouse Mobile (28.50 NZD per month), or Vodafone (36 NZD per month)
Alternatives include Spark (also starting from 29 NZD2) and Skinny (starting from 28 NZD3). Despite Skinny being just as cheap and convenient as Vodafone, I find their coverage isn't quite as good.
Vodafone, Skinny, and Spark are well represented at international airports in New Zealand. 2degrees is available in stores nearby. Check out my airport guides here for more information on where to find the SIM cards at each airport: Auckland, Christchurch, and Queenstown.
If transiting in Auckland Airport, it is possible to buy Vodafone, Spark, or Skinny prepaid SIM cards. Some SIM cards (Vodafone) can be purchased in the duty free area, others after leaving customs. Check out my full guide to Auckland Airport here: https://landinglastminute.com/auckland-sim-card/
This guide to New Zealand prepaid SIM cards for visitors is separated into 3 parts:
Part 1: Visitor SIM Cards
Visitors staying less than a month
Vodafone SIM cards start from 29 NZD and include 1.5GB of data and 200 mins of calls to New Zealand and a few other countries (30 day expiry)1. Vodafone also have the most shops at New Zealand airports:
For more data, Vodafone offers 5GB for 49 NZD with 60 day expiry.
The Vodafone tourist SIM card includes international calls to 19 countries including Australia, UK, US, Canada Japan, China, Malaysia, Singapore, France, and Germany.
Alternatives:
Skinny is slightly cheaper at 28 NZD for 2GB data and 200 minutes of calls.
Skinny also includes international calls in the 200 minute inclusion. It can be used to call the same countries above and more.
Skinny is also available at Auckland, Christchurch, and Queenstown.
Vodafone and Skinny SIM cards can be topped up by voucher or credit card when they expire. Spark can as well.
Vodafone offers slightly better coverage than Skinny based on my experience (mostly south island) and people I've talked to. This is why I list it first, despite being slightly more expensive. There are significant parts of New Zealand that have no cell phone coverage regardless of which provider you are with.
Visitors staying 1-2 months
The providers found in the airports offer good deals for SIM cards with 60 day expiry. I still think this is a better option than worrying about the top-up options if buying a local SIM card.
I prefer the 49 NZD 5GB Vodafone SIM card listed above. Good alternatives include:
Vodafone: 59 NZD for 10GB data, 200 mins calls, and 60 day expiry
Skinny: 48 NZD for 6GB, 200 mins calls, and 60 day expiry
Both are available in all major international airports: Auckland, Christchurch, and Queenstown.
Vodafone and Skinny (and Spark too) tourist SIM cards can be topped up by credit card or voucher when they expire.
Alternatives:
2degrees: 30 NZD for 2.5GB of data and 300 mins of local calls4
Warehouse Mobile - a shop-brand using the 2degrees network: 28.50 NZD for 5GB of data and 200 mins of calls (including some international calls)5
These alternatives are not easily available at airports and are based on recurring monthly bundles (though it's still prepay, there's no contract). If staying more than a month in New Zealand, it can be worth the inconvenience of heading out of the airport to find a store to buy these SIM cards (2degrees or The Warehouse respectively).
As I'm usually driving extensively around the countryside when I visit New Zealand, coverage is the most important factor for me in deciding a SIM card. While coverage isn't great for any provider in the New Zealand countryside, I tend to have a better experience with Vodafone (and Spark and 2degrees - see below).
Visitors staying more than 2 months
For longer stays, it can be more worthwhile to seek out a cheaper option away from the airports. These can include the local plans, or longer expiry tourist SIM cards.
2degrees offers a 30 NZD plan that includes:
2.5GB of data (unused is carried over)
300 minutes of calls to NZ
For more data, 2degrees has various plans all the way up to 70 NZD for 25GB.
Alternatives include:
Vodafone local SIM cards (which should be available at airports, though possibly only in the stores after customs) offer 36 NZD for 4GB of data (carried over) and 300 mins calls;
The Warehouse (a shop-brand using the 2degrees network) sells SIM cards for a few dollars at their shops where a monthly recurring bundle costs for 28.50 NZD for 5GB of data and 200 mins of calls (to a dozen foreign countries as well)
Warehouse Mobile can be located in The Warehouse stores in Auckland, Christchurch, and Queenstown (there's one in Frankton).
The sacrifice with taking a local SIM over a tourist SIM is that the local plans do NOT include international calls. For anyone following my guide to calling overseas while travelling (it can be found here), this shouldn't matter to you: Buying more data and using apps/Skype to call is worth it.
Identification requirements for New Zealand SIM cards
There is currently no requirement to provide identification to purchase a prepaid SIM card in New Zealand. SIM cards also do not currently require any online verification for activation.
Part 2: Maps to Airport SIM Cards
SIM card shops can be located in the arrivals area of major international airports in New Zealand:
Auckland: Spark, Vodafone, and Relay sell SIM cards;
Christchurch: Spark and Vodafone sell SIM cards;
Queenstown: Vodafone and Papers Plus sell SIM cards.
Each of these shops is included on the map below: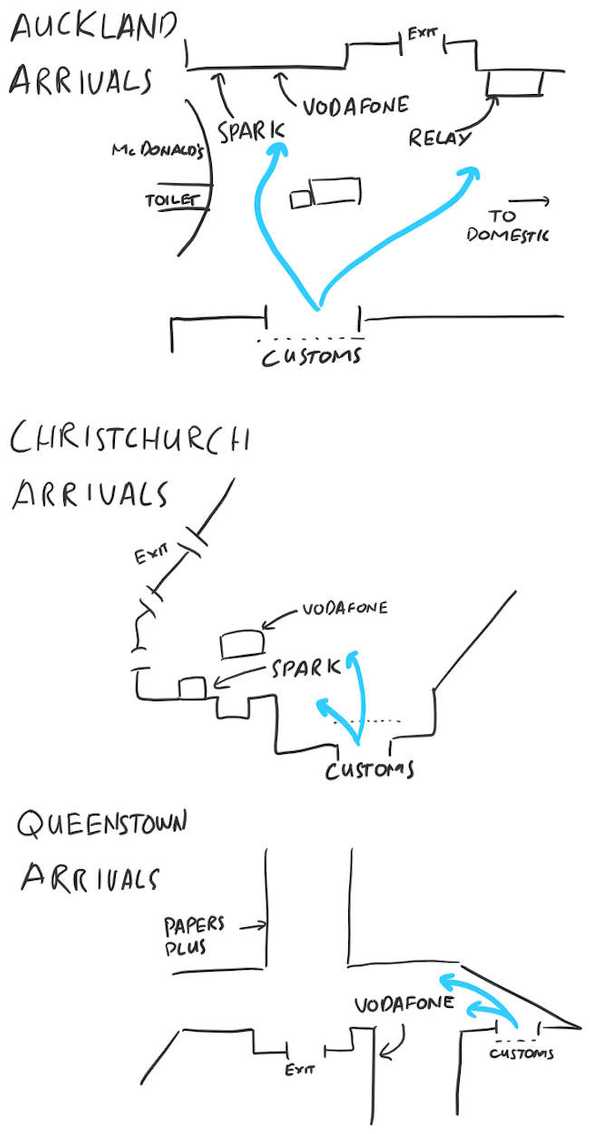 Map to New Zealand SIM cards
SIM cards, such as 2degrees, can also be purchased at shops nearby airports. Check out the city specific guides for more information: Auckland, Christchurch, and Queenstown.
Part 3: When is it Cheaper to Roam to New Zealand (and where can you roam from New Zealand)
Roaming in New Zealand can be cheaper, particularly for Australians and Singaporeans. Check out the details below:
For Australians:
Optus offers 10GB for 20 AUD lasting 14 days8.
Roaming in New Zealand can be a good option for Australians staying less than a week.
For Americans:
AT&T includes New Zealand with their Roaming Passport for 70 USD per month9;
T-Mobile includes New Zealand in plans with Simple Global (unlimited 2G data)10.
For Americans not already subscribed to AT&T's roaming passport, buying a local SIM card is likely the better option in New Zealand.
For Brits:
Vodafone charges £6 per day to use your plan in New Zealand (free on plans that cover Roam-further destinations)11;
EE charges £6 per day for 500mb of data12.
A local SIM card is cheaper for Brits if staying in New Zealand for more than a few days.
For Canadians:
Bell charges 12 CAD per day for 500mb and unlimited calls to New Zealand and Canada15.
Canadians should also consider getting a local SIM cards when arriving in New Zealand.
For Singaporeans:
Singtel starts from 12 SGD per 1GB of data with 30 day validity16;
Starhub has 1GB for 5 SGD with 3 day validity or 2GB for 15 SGD with 30 day validity17;
M1 includes New Zealand in the 25 SGD data passport18, but it's probably not worth the subscription.
Singaporeans with Singtel or Starhub should consider roaming in New Zealand - it is likely cheaper than a local SIM (particularly as Singaporeans are good at using apps to make phone calls)
Roaming a New Zealand SIM card to another country
If buying one of the prepaid New Zealand SIM cards mentioned in this guide, some affordable roaming options can be available if nearby countries:
Vodafone has for 19 NZD per week: 1GB of data and 100 mins of calls to local numbers and back to New Zealand.
Skinny has a similar deal for 15 NZD per week
2Degrees starts from 20 NZD per week for 500mb
If travelling on to Australia, Vanuatu, Tonga, Fiji, or other nearby countries, the Vodafone and Skinny prepay roaming can offer a better option than buying a local SIM card.
Other SIM cards Considered
There is an additional SIM card I considered, though didn't find it suitable for someone who is only visiting New Zealand. Details are:
References
---
About
Written by Chris who travels frequently for work and understands what it can be like to arrive somewhere new and unfamiliar.
I wrote Landing Last Minute to help the hurried traveler get necessary information about any destination.