Abu Dhabi airport arrivals map, the SIM card shop is in the Terminal 1 and Terminal 3 arrivals area. Sketched by Chris
Visitor SIM Cards at Abu Dhabi Airport: An Arrivals Guide
Updated by Chris. Chris was surprised to see an Etihad flight number on transport between Abu Dhabi and Dubai; turns out it was for a bus!
To help travellers arriving at Abu Dhabi locate a prepaid SIM card, I put this guide together. This guide includes details of which SIM cards are available at Abu Dhabi airport, and maps for each of the terminals showing their locations.
There are two shops currently open in the arrivals area of Abu Dhabi (AUH) airport selling SIM cards to visitors:
Provider
Shop Location
SIM Cards Available
du

Arrivals Hall (for terminals 1 and 3). Turn right after reaching the public area. See map above for details
Skypark Plaza. Level 4, near the supermarket

du tourist SIM, from 55 AED
du prepaid SIM, from 35 AED

Passport Control

Before collecting bags, it's impossible to miss

Location of SIM cards at Abu Dhabi Airport
Etisalat, the other carrier in the UAE, used to have a booth in the arrivals area as well - however I can't find it any more. If arriving in the UAE via Dubai airport, both du and Etisalat SIM cards can be purchased there. I've written a guide on how to buy a SIM card when arriving at Dubai airport here: https://landinglastminute.com/dubai-sim-card/
All arriving tourists currently get a free SIM card, provided by du and distributed at passport control. It includes 20MB of data and 3 minutes of phone calls. The free SIM of course can be topped up with a minimum amount of 55 AED after the introductory amounts are used.
The du SIM card can be topped up with 500mb of data and 20 minutes of calls for 55 AED, this has 7 day validity1. There is a desk in the arrivals area (see map above) for those wanting to easily add this top-up before leaving the airport.
Etisalat has a Visitor Line plan that includes 700mb of data and 40 minutes of calls for 100 AED with 90 days validity. Other mixes of calls and data are available at this price. See below for further details of Etisalat.
Savings can be made by purchasing a regular prepaid SIM card rather than the tourist plans. These are not always available at the airport and staff may offer the tourist prepaid SIM card instead.
Other brands are available to be purchased outside the airport. These may offer better value for people planning to live in Dubai for a while. The brands are:
Virgin Mobile, operated on the du network
Swyp, operated on the Etisalat network
For short term visitors, I found the du SIM with 55 AED top-up to be the best value when arriving at Abu Dhabi (larger top-ups are available, see below for more details). While other providers have slightly cheaper options available, I found it not worth the hassle of leaving the airport to buy a SIM card if only staying for a few days. If staying longer in Abu Dhabi or the UAE, check out Etisalat and Virgin Mobile plans too.
Which SIM cards are available at Abu Dhabi Airport?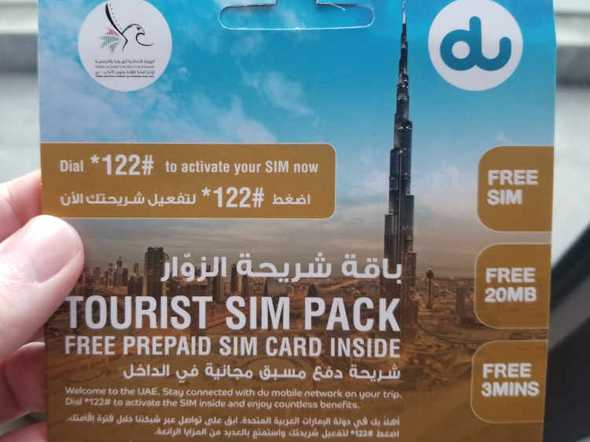 Photo I took of the free SIM card received on arrival into the UAE
SIM cards from du are the easiest to find at Abu Dhabi airport. du SIM cards are given out free to arriving to visitors. The arriving visitor SIM doesn't include much data.
du tourist plans that can be added to the tourist SIM include:
55 AED for 500mb of data and 20 minutes of calls, 7 day validity
75 AED for 2GB of data and 40 minutes of calls, 14 day validity
110 AED for 3.5GB of data and 50 minutes of calls, 14 day validity
For longer stays, prepaid data packs can be added with 30 day recurring payments. Examples of recurring bundles include 110 AED (+tax) for 1.1GB of data, and 210 AED (+tax) for 5GB of data.
SIM cards available after leaving the airport
Etisalat is the other provider that offer special deals for tourists. Etisalat Visitor Line plans include2:
1GB of data for 100 AED (+tax)
700mb of data plus 40 mins of calls for 100 AED (+tax)
Etisalat local prepaid can also offer good value as it is charged weekly, for example:
25 AED (+tax) per week: 750mb of data and 40 mins of calls
50 AED (+tax) per week: 2GB of data and 100 mins of calls
International call discounts are available by a monthly opt-in payment.
Etisalat SIM cards are available at their branded shops throughout Abu Dhabi, or through re-sellers.
Virgin Mobile has good value plans for data and calls intended for people staying in Abu Dhabi or the UAE for a bit longer. Virgin Mobile is available delivered to any address in Abu Dhabi, or at the Virgin Megastores in Yas Mall or Al Wahda Mall. Plans include3:
82.95 AED: 1GB + 1GB bonus and 50 mins of local calls
161.70 AED: 3GB + 3GB bonus, 200 mins of local calls, and 50 mins of international calls
378 AED: 10GB + 10GB bonus, 500 mins of local calls and 200 mins of international calls
Discounts are available if buying for 6 months (30% off) or 12 months (50% off).
SIM Cards for staying longer in the UAE
For those staying in Abu Dhabi longer than a tourist would, plans in the UAE are available with no commitment or a 12 month commitment.
For stays in the UAE longer than 12 months, mobile phone plans in the UAE for customers who already have a handset are based on a 12 month commitment. Some examples of the value are:
Etisalat Freedom 175, including 10GB data and 500 mins for 175 AED (+tax) per month
du Power Plan 200, including 26GB data and 800 mins for 200 AED (+tax) per month
Virgin Mobile, from 1GB data and 50 mins of calls and 79 AED (+tax) per month
For stays in the UAE of less than 12 months, post paid plans without commitment are available from Etisalat for 25 AED (+tax) more than their regular prices.
Coverage
Mobile phone networks cover most of the UAE, including the highways and even the desert. Both providers offer similar coverage, though Etisalat is slightly better.
Do I need ID to buy a SIM card at Abu Dhabi Airport?
Yes, identification is required to purchase a SIM card at Abu Dhabi Airport, and anywhere else in the UAE. Showing a valid visa may also be required.
For eligible tourists (as determined by your passport/visa), a free SIM card is provided at passport control as you enter Abu Dhabi.
Roaming into the UAE
If not staying long in Abu Dhabi, it may be worth roaming with a SIM card from another country. Some example roaming costs include:
UK: Vodafone charges 6 GBP per day to use your own plan in the UAE4
Ireland: Vodafone charges 4.99 EUR per day for 200mb of data and unlimited calls and texts back to Ireland5
US: AT&T includes the UAE in the roaming passport plan for 70 USD per month6
Is Wi-Fi available at Abu Dhabi Airport?
Yes, Wi-FI is available at Abu Dhabi Airport. Connect to ADAC Free Wireless and then tap ACCEPT on the page that opens.
Getting from the airport to the city to buy a SIM card
Taxi
Taxis in Abu Dhabi report to have free Wi-FI. I haven't had the chance to try it myself though, so not sure how well it works.
Traffic can significantly slow down how long it takes to get to accommodation from the airport. For staying connected during the taxi ride, I recommend finding a SIM card at the airport.
Uber, Careem, and ride-share
Uber and Careem (the local ride-share company) pick up outside the terminal building. The pick up was the carpark at one stage, though I've heard it's since changed.
If relying on the airport Wi-Fi, I usually don't like to use ride-share apps. If I need to contact the driver in the carpark (to find out where the car is), I want a reliable data connection - airport Wi-Fi too often does not extend out to the Uber pick up.
Can I roam with my Abu Dhabi SIM card to another country
Roaming data packs are available in some countries starting at 35 AED with both du and Etisalat. Both providers offer weekly and monthly add on packs for better value while roaming. Etisalat offers a special 14 day Umrah and Hajj pack.
Most neighbouring countries appear to be supported by both Etisalat and du (I've never roamed with a UAE SIM card before).
At 35 AED (+tax) per day, or weekly/monthly plans it looks like you can roam in the likes of Oman, Bahrain, Saudi Arabia, Egypt and Lebanon. Further afield, roaming at this price is also available in Australia, the UK, US, Canada, France and Switzerland for example.
---
References
---
About
Written by Chris who travels frequently for work and understands what it can be like to arrive somewhere new and unfamiliar.
I wrote Landing Last Minute to help the hurried traveler get necessary information about any destination.